Using the very best technology to manufacture our vertical window blinds, our customers can be rest assured, that the product received is of the highest quality and finish. Our L89 Vertical selection comes in both The Fabric Box and Louvolite range of fabrics, giving you a wide variety of choice and finish on your orders.
We use Ultrasonic Welding on both the hanger and weight pockets of our vanes, meaning that a secure hold is achieved while also eliminating the occurrence of pinholes and flaws on the finished product. Each vertical vane is individually inspected and assembled by hand.
The standard finish for our Vertical blinds are Chainless Weights in an open pocket on an 89mm wide fabric. Wand Operated on a free flowing tilt and turn rod. Using high quality hangers, carriers and headrails allows for these blinds to be used in high traffic areas, serving its purpose as a multi functional shading system.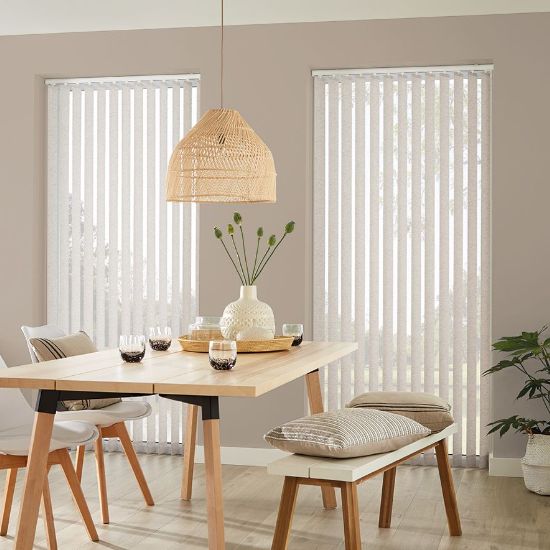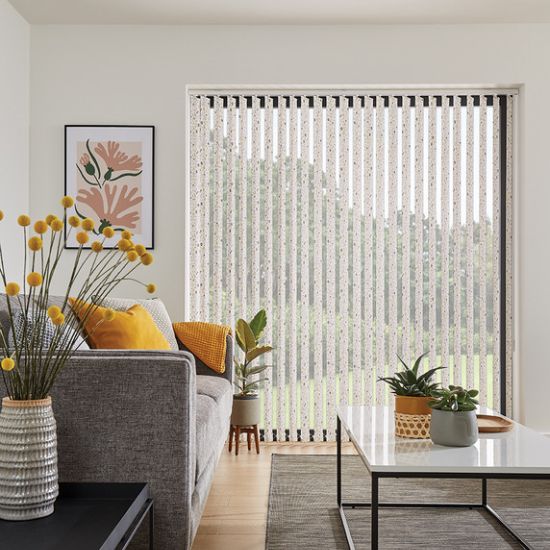 Vertical Blind Finish Options
We have a variety of finishes to choose from:
Chainless Weights - This option comes as standard, a chainless weight in a welded pocket. Ideal for areas that want a free flowing space.
Chained Weights - An optional extra. This finish includes chained weights connected with a white plastic chain, keeping each vane uniform. Restricting the free movement of the vanes in windy locations or heavy traffic areas.
Closed Bottom Pocket - With an ultrasonic weld on 3 sides, the metal weight is enclosed and sealed. Perfect of areas where anti-ligature requirements may be a concern.
Depending on location and installation access, there are a selection of brackets to choose from:
Top Fix Brackets - Our standard fixing bracket, with a tilt and lock mechanism, the headrail simply clicks into place. Suitable for inside recess fitting.
89/127mm Face Fix Brackets. - An optional extra. These brackets come into play for outside recess fixing or areas where more access is required. These brackets are spring operated.
Vertical Operation Options
As standard, our Vertical Window Blinds operated on a single draw system. This works using a hand operated Child Safe wand mechanism. The wand is connected to the leading vane and pulls the vanes from side to side, by turning the wand in hand, you can set the vanes to an open and closed position.
Our wands are provided at a standard size of 750mm, longer operating sizes are available upon request and will be provided as standard if the install height is greater than 2.3m.
As an optional extra, we can provide a Split Draw system which operates on a Chain and Cord mechanism. These chains/cords will hang on either the left or right side of the vanes; based on preference. The cord seamlessly slides the vanes in and out from a central position and the chain allows the vanes to rotate to an open and closed setting.